Beauty Bargains: Lip balm
I am a lip balm addict, whore, and hoarder. At any one time, you will find at LEAST three (possibly four) lip balms in my handbag… and that's just lip BALMS, we're not even counting glosses, stains or sticks! But I'm fussy, you know? Because lip balms aren't all made equally and many are overpriced, actually dry your lips out or run out far too fast for them to be worth the price you paid. So what's a girl (or guy) to do?
Well, firstly – take your red tube of Paw Paw Ointment out of your bag and put it in your cupboard. Yes, go on, that's right. Why am I making you do this? Because like Vaseline, it isn't going to moisturise your lips, it's going to make them drier.
Wait, so why did I tell you to keep it? Well, it's still great for other things, like all the things listed on the back of the tube! Go on, read it, it has several nifty uses!
So what lip balms should you be using? Well, firstly, you want ones that are low-to-no in petroleum jelly. It's not going to moisten your lips, you're just going to use loads of product and then you spend well more money. Here are my picks for the best budget-friendly lip balms on the market:
Carmex's nifty lip balm comes in pots, chapsticks, squeezey tubes and several tinted varieties. They all retail at the same price, but by far the best bang for your buck is the squeezey tube, which packs in 10g of product – compared to 7.5g in the pots, 4.5 in the chapsticks and a meagre 2g in the snazzy tinted range. Yes, they have a tiny amount of petroleum jelly in them, but that doesn't seem to effect how hard working this balm is, it's a godsend – especially if you're prone to coldsores!
If you buy them at Chemist Warehouse, they're only $4.99… or if you have a friend headed for the USA, ask them to stock up, they're only $1 at Walmart. (I might have a two year supply in my top drawer from my last trip to the States…) My other tip is to cut them open when you think they're empty – there's at least another month's worth in there, easy!
My love for Carmex is rivaled only by my love for Maybelline's Baby Lips. There is no bullshit, they honestly work and they're only $3.95! Hooray! Having said that, recently Maybelline released a line of Baby Lips Colour – while I love love love the tint, these ones aren't nearly as moisturising and I was a bit disappointed. I'll be sticking to the basic range in the future – I favour the light blue tube with the pink writing.
These guys are a little pricier, coming in at $6.99 for a chapstick style tube- but if you hunt around, you can usually get a better price at some of the discount chemists. They're another lip balm that I reckon actually works, but I tend to forgo them purely because they're a bit on the pricey side for something I go through so quickly. They have a few different ranges, including a tinted range which are far better than the Baby Lips tinted range and they smell soooooooo good.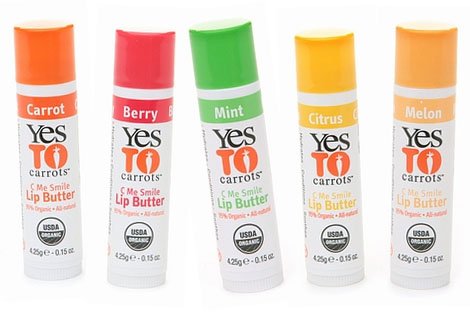 At $5.99, the Yes to Carrots Lip Butters are new in my life, but no less important. I have yet to trial the tinted range, but I've heard good things and I'm hoping they live up to the hype because I need a great tinted lip balm to replace a special edition Baby Lips I bought in the USA that has run out (and is NOT drying like the rest of the Baby Lips Colour range). Yes to Carrots? Yes to this lip balm!
Ok, I totally shouldn't be recommending Lanolips on my blog about living the povo life, but I couldn't resist. These guys ain't cheap… but you do get 12.5ml for around the $15 mark, and that actually works out to pretty reasonable when you do the maths. These guys are favoured by my favourite beauty guru, Zoe Foster (and if you don't know who she is, you must've been living under a rock for as long as forever because she is absolutely swell and wonderful and fabulous!) and if you can't trust her recommendation, then whose can you? Seriously, who? Nobody, that's right.
So that's my top five lip balms for all you lip balm loving ladies and mens out there – and if you see any of the above on special, sound the siren because this girl is always looking to add more to her hoarder drawer of lip balms… Yes, I fear a lip balm apocalypse where the world runs out and I am left with dry lips. OH THE HORROR!
Oh, and before I go… there's one more thing you need to keep your lips luscious and kissable:
This – you want and need jars and jars of this. This little pot of gold from Lush ($9.95) is a lip scrub and it's what I use not only to exfoliate my lips and keep them fresh, it's also how I remove excess lipstick at the end of a long day (the little bits that get stuck between your lip lines that won't come off easily with make up remover) and yes, it's a little pricey but I've had mine nearly six month and have BARELY made a dent… I use it twice a day. I love love LOVE my Lush lip scrub. And if you don't like mint, there is definitely something wrong with you… but there are other flavours too, lucky you.
What's your favourite lip balm? Have you found a really great tinted lip balm that you hoard? I want to hear about it!